Our Building Services Tualatin, OR
Thank your for giving BD janitorial an opportunity to show and tell you about the Building Services Tualatin OR. that we offer. BD janitorial has been providing building services for Tualatin for over 10 years. BD Janitorial is Licensed to Clean, Bonded and Insured. Brad the co-owner has Certifications in  Basic Cleaning, Green Cleaning, Bloodbourne Pathogens, Carpet Care and Restroom Sanititation and several others.
Tualatin Building services can be bundled with a maintenance plan also. Maintenance can include small repairs to fix  toilets, reattach dispensers and light bulb change outs to name a few.
Tualatin Building Services List
Clean the entry door glass and entrance area of cobwebs, trash.
Vacuum entry mats or hard flooring and mop hard flooring.
Vacuum hallways and stairways and elevator.
Empty trash bin, clean it's exterior and install a new liner.
Remove dust from wall art, ledges.
Look for and remove cobwebs.
Look for burned out bulbs and replace if requested to do so.
Restroom Cleaning, The 2nd Highest Building Services Complaint
According to an online article from *cleanlink.com which is an online resource for cleaning professionals, product distributors and building services contractors. Over 50% of a building's occupants complaints stem from the Restrooms. 26% of the complaints are about empty towel and soap dispensers and 25% of the complaints are for dirty restroom condition.
How we do Consistent Restroom Cleaning. Here is our Check List:
Dispenser filled?
Clean fixtures including a weekly scrub out with organic acid
Remove trash & replace liners
Change out mats if needed
Clean wall by urninals
Clean stall wall & stall tops
Clean floor with botanical disinfectant
Light bulbs burned out? Replace.
Order supplies or notify contact supplies are low
Remove cobwebs
Clean exterior of towel dispenser
Clean grab bars
https://www.cleanlink.com/cp/article.aspx?id=17471
More Building Services Tualatin OR include:
Bulb replacement
Window cleaning
Minor toilet & dispenser repairs
Move out or move in
These building services Tualatin can be added to a daily or weekly building service package.
Many office complexes have a break room / lunch room which needs daily or weekly cleaning. Microwave needs daily cleaning along with tables and the floor. Trash & recycle need to be removed and the counter top needs to be clean for the buildings tenants and their guests.
#3 from the ** IFMA survey was "poor janitorial service". As a Tualatin building services provider we strive to make the building tenants happy with the quality of our work. Because in a way the building's tenants are our customer too and eliminating those tenants calls to the property manager regarding building service issues.
https://www.buildings.com/news/industry-news/articleid/1689/title/ifma-survey-ranks-top-10-office-complaints-
Have a question? 503 537 8571
We Do Texting 503 537 8571
We Promise No Nagging
________________________________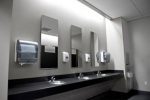 A Comment from a Property Manager On Our Building Services
"I toured the building yesterday and it looked FANTASTIC."           Andrea.