Commercial Cleaning for Sherwood OR.
We offer reliable commercial cleaning Sherwood OR. for:
churches
businesses
retail
offices such as insurance, real estate etc.
manufacturing
engineering
common areas for office complexes, apartments etc
windows commercial & residential
Service offerings for commercial cleaning customers.
Basic Commercial Cleaning Service in Sherwood OR. for commercial offices or businesses that have 2 to 10 employees and may only desire to have a basic level of services done on a weekly or bi weekly basis. The basic level service could include:
trash & recycle removed
vacuum the carpeted areas or vacuum & mop hard flooring
clean the coffee area or break room
17 step restroom cleaning process
clean entry door glass
We provide the above basic commercial cleaning for some of our current customers, some of which are in an office complex. Another customer that we currently provide services for, only wants the restrooms and floors cleaned each week. A daily or weekly commercial cleaning can be customized to fit Your Needs and Budget.
Full Commercial Cleaning List for Sherwood OR. commercial office space or office and warehouse can include these services or a customized list of commercial cleaning to do's and would look like this:
clean entry door glass & area
vacuum all carpeted area wall to wall
vacuum or dry + damp mop hard flooring
clean interior glass
clean desk tops & telephone handsets
dust removal from file cabinets & wall art & chair bases
remove cobwebs
trash & recycle out + replace liners
17 Steps to restroom cleaning & disinfection + restock paper products + ordering products
clean interior doors to remove germs & marks — if possible
spot clean carpet spills
clean break room + counter + microwave + table(s) & chairs + fridge (ext) + floor
clean windows + sills
clean the blinds
BD Janitorial has over 20 years experience as a commercial cleaning company. Our commercial cleaning Sherwood OR. offerings are Bonded and Licensed and Insured and we have certifications in Green Cleaning, Restroom Cleaning, OSHA Blood-borne Pathogens.
1Call for a Free Quick Quote 503 537 8571
2Text 503 537 8571 For a Quote or a Question
3Email brad@bdjanitorial.com
A Comment From A Current Customer "Everything looks great!"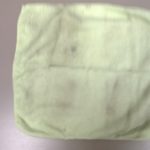 The above photo show how much dust was removed from 4 work stations.
This office space was cleaned 1 X per week. Call us we can remove your dust,
cobwebs and help to clean your indoor office environment.