Quality Office Cleaning for Lake Oswego OR
BD Janitorial has over 25 years in office cleaning experience and we use the newest tools and equipment to remove dust and germs from your office space. We offer a quality cleaning and back it up with a guarantee to " make it right" within 24 hours. To offer a better office cleaning experience for you and your employees, I attended a webinar 2 months ago titled "Infection Control" which showed how germs and viruses are spread, which type of disinfectants work best and interventions to prevent the spread of germs. With cold and flu season coming soon, BD Janitorial works to reduce the germs and viruses on the surfaces in your business or commercial office space. According to the webinar I attended and mentioned above, the common cold costs a business approximately $280 each year in productivity.
Consistent Commercial Office Cleaning
Commercial Office Cleaning for Small to Mid Sized Businesses
When I meet with a potential new customer one of the questions I ask is "why are you making a change to a new cleaning service?" the reply I often get is " the current cleaning company sometimes doesn't show up to clean." I just took over a new customer, who told me that the previous office cleaning tech would promise to come back to finish a task but never did follow up and finish the task. I can honestly say that I have Never not shown up for the scheduled office cleaning service day. I have on rare occasions asked to change the service day to another day either before or after the scheduled office cleaning service day. Consistent office cleaning is important because some office surfaces and equipment have a high Germ Count per square inch. The phone, desk top and keyboard are 3 of the high Germ Count surfaces. Wiping these surfaces with a clean damp cloth or a cloth treated with a neutral cleaner can reduce the germ count.
1Call for a Free No Nag Quote 503 537 8571
2Too Busy to Call? Text us 503 537 8571
3Same Day Email Reply brad@bdjanitorial.com
Reliable Office and Business Cleaning
Office and Business Cleaning for Lake Oswego, OR
As the business owner or the office manager you have lots of tasks to think about or track. When you hire BD Janitorial you can leave the office or business knowing that when you arrive for the work day the office space or business will be cleaned, the trash and recycle will be gone and the kitchen or break room will be ready for you to make that morning coffee.
Because many people and employees are chemically sensitive or dislike cleaning products that have a perfume, We use neutral cleaning products that have No perfume or a quickly dissipating perfume. Many of the products we use have the Green Seal Approved label. To learn more about Green Seal Approved http://www.greenseal.org/
BD Janitorial is Bonded & Licensed to Clean & Insured & background Checked
Dependable Cleaning Services for Offices
OFFICE INDOOR AIR
You count on your coworkers or employees to be there each work day so shouldn't the office cleaning company you hire also to be there each week? We even show up on snow days or arrange another service day that works for you and your staff. Your health and your employees or office staff's health is important to us. We care about your indoor office air, so we use vacuum cleaners that have the Green Label of Approval by the Carpet Rug Institute at http://www.carpet-rug.org/CRI-Testing-Programs/CRI-Seal-of-Approval-Program/Vacuums.aspx
Your office carpeting acts as a Giant filter capturing indoor dust particles plus the 100 hairs you lose each day. Frequent vacuuming helps to reduce the dust particles that could be recycled back into the office air.
We just purchased a vacuum cleaner that combats bacteria, fungi and dust mites using a special filter according to the vacuums' manufacturer.
Have you looked at the ceiling vent covers in your office? Many times these vent covers attract dust  which over time builds up and should be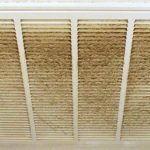 removed. See the photo.
This is a service we also can provide. Hopefully your ceiling vent covers don't look like the one in the photo.
Cleaning and Disinfecting Lake Oswego Office Restrooms
According to surveys found at cleanlink.com a website for janitorial service providers, restrooms generate around 50% of office cleaning complaints. 1 survey stated that only 50% of employees regarded their workplace restrooms as excellent or very good. From the same survey the most aggravating restroom situation is empty dispensers and the 2nd item from the survey is that people have an aversion to touching certain restroom surfaces such as door handles, stall doors and fixture handles.
BD janitorial takes restroom cleanliness seriously, yes, we have had some complaints in the past regarding restrooms so that is why we have come up with our Restroom Cleaning and Disinfection Checklist which helps to make sure each restroom is paper stocked. clean and disinfected.
Our restroom checklist looks this:
Clean & disinfect all door handles and touch points
Clean mirrors
Scrub out fixtures & clean bases
Fill dispensers
Change out burned out bulbs
Check for and remove cobwebs
Dry and damp mop each floor with a clean microfiber pad
Remove trash and replace liners
Tighten toilet seats if loose
Change out mats
Remove dust from stall wall dividers
These are Some of the commercial cleaning for restrooms tasks that we provide. here would be a good place to mention that all cleaning and disinfecting for restrooms, breakrooms is done with a Botanical Cleaner Disinfectant which is EPA Approved and kills the Covid virus plus many other germs, bacteria and viruses.
Our Other Office Cleaning and Janitorial Services
We offer steam cleaning with a commercial grade steam cleaning machine which offers a deep cleaning and disinfection for restrooms, breakrooms, shop changing rooms.
kitchen / Breakroom cleaning is also a commercial service that we offer. It includes cleaning the tables, counters, cabinets and all touch points plus cleaning the floor and removing all trash and recycling and cleaning out the microwave.
Window and blind cleaning can also be part of a janitorial services schedule.
If you have tile and grout flooring that needs a deep cleaning we can do that also.
Some Frequent Questions and Short Answers About Our janitorial Services
Do you offer a Guarantee?… Yes, we'll reclean an area or offer a discount if you have a complaint.
Can I Customize a office cleaning schedule to fit my needs and budget?… Yes, some of our customers request commercial office cleaning be done on a 2X per month basis.
What can I get done on a small budget?… Several of our customers request that only certain tasks be done each service day such as Vacuum the carpet, Take out the trash & recycle, Clean the restrooms. This task list can be tailored to fit your budget.
Does BD janitorial offer full services on a daily basis?…. Yes we do. As an example we provide a common area building maintenance service for each week day. This could include an office space as well. Full services would include, dust removal, carpet vacuuming, hard floor cleaning, restroom / breakroom, windows just to name a few.
If you have any questions or would like a FREE NO NAG NO HASSLE Bid or Quote to clean your office space.
Give us a Call or Text 503 537 8571  or Email. Brad@bdjanitorial.com. 
Some Customer Comments Regarding Our Commercial Office Service
"Brad, thank you for the enhanced disinfection protocols" Acupuncture Clinic lake Oswego
"Brad is doing a good job" Stuart Lake Oswego Corp
Check Out Some of Our Blog Posts.
https://www.bdjanitorial.com/our-vacuums-got-a-medal/
https://www.bdjanitorial.com/whyuseconcrobium/