Does Your Newberg Office Need Cleaning?
Are you a small business with 3-10 employees or staff? Or are you a mid sized business with 11-49 employees or staff?
BD Janitorial specializes in providing Quality and Reliable office services to these types of office spaces.
Some of our Newberg Oregon customers include: a retail space, medical offices, a manufacturing company and even a kiosk.
Perhaps you are considering a change from your current janitorial services provider?
Interested in a safer indoor environment for your office staff who maybe concerned about the Covid 19 virus?
Do you have other questions or want more information on hiring or interviewing a new Cleaning in Newberg Company or to start providing commercial cleaner services for your office space or looking to replace the employee that is currently doing this task and wants to take a break or has left the company,
How to Find The Best office Cleaning Company in Newberg
Here are some questions to ask a commercial cleaning company.
How long have they been in business?
Are they Licensed Insured Bonded and passed a Background Check?
What training or qualifications does your maintenance business have?
As a commercial cleaner, how are you different from other maintenance companies?
Answers to the above questions and some background on BD Janitorial and Brad Dorner co-owner.
We have been in the Clean Business locally for over 20 years.
Some of our customers have included: George Fox College, a retail store, a bank, call center, building complex common area.
Brad co-owner of BD Janitorial has Certifications in:
Basic Clean – Green Clean – Carpet Care – Restroom Clean & Disinfection – Educational Facilities – OSHA blood Borne Pathogens.
Brad has recently completed and passed the exam for Smart Tools for Enhanced Facilities Disinfection Program. This program covers the Covid 19 virus, The program covered  5 Steps:
1. site assessment
2. right application & product to use
3. proper infection control
4. critical touch points
5. documentation of performed tasks
Brad has also passed a background check and BD Janitorial is Licensed & Bonded & Insured.
How is BD janitorial different from other janitorial companies?
We use a Botanical derived cleaner and disinfectant product. See This Link   https://www.concrobium.com/pro/products/disinfectant-cleaner/
We do research to find New products and equipment to offer you a cleaner healthier office space, restroom and break room. As an example we just purchased a vacuum cleaner that combats bacteria, fungi and dust mites according to the manufacturer.
We specialize in dust removal not just moving it around. Using microfiber cloths that actually capture dust and bacteria. Microfiber works because each strand is approximately 1/16 size of a human hair. Each square inch of a microfiber cloth contains thousands of strands to capture dust. Folding the cloth over gives each surface the optimum for dust removal.
Can I get a Free Assessment or Quote for My Newberg, Oregon Office or Building?
Yes, we offer a Free No Nag No Hassle Quotes
For a quote or to ask us some questions, call or text Brad 503 537 8571.  Email brad@bdjanitorial.com
How many Types of Cleaning Are There?
We offer 2 Types of Cleaning
1. Frequency Types: Days of the Week or Bi-Monthly.
Days Of The Week: Newberg office or Building for 1X 2X 3X 4X 5 per week. Requested tasks for each day can be tailored to fit your needs and budget.
Bi-Monthly:  Requested tasks for each clean day within a week. Example, some customers request a clean day for 2 Mondays of each month.Tasks to be completed can be tailored to fit you needs and budget for the Bi-Monthly clean days.
2.Clean Day Types: Full Commercial Plan or Just The Basics Plan.
The Just Basics Plan includes:
desktops dust removal and cleaning – Optional
trash & recycle removal
power vacuum carpeted areas
clean & disinfect restrooms
clean & disinfect break room
Full Commercial Plan Includes:
the Above Basic Plan 
window cleaning
small spill carpet removal
dust removal from surfaces
tile & grout cleaning
covid disinfection
cobweb removal
ceiling vent dust buildup removal
Plus other surfaces and areas
Does Your Company Offer a Guarantee?
Yes we do! if you have a complaint about the cleanliness or perhaps we missed a cobweb in the corner or? Contact us with the complaint and we will correct the complaint within 24 hours (depending on your location) or we will reduce the next invoice by a $ amount satisfactory to you.
Imagine A Commercial Cleaning Services Company That pays you.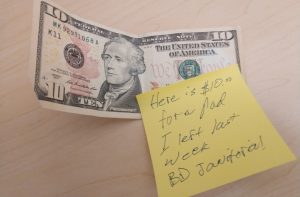 If we leave a piece of equipment behind, we try not to but sometimes it happens. If it does happen, we leave some cash for you to have a cup a coffee or a snack.
Some of the Green Cleaning Products & Equipment We Use
As mentioned above we use a Botanical derived cleaner disinfectant product.
We try to use Green Seal Approved or Eco Type of products when we can. Green Seal products Link   https://www.greenseal.org/about
Some of the Green Seal Approved Products we use:
Washroom Cleaner by Sustainable Earth Brand
Window Cleaner by Sustainable Earth Brand
Green Building Cleaner for general cleaning
Some of the equipment we use:
Microfiber cloths to remove dust and when dampened can " Remove up to 98% of bacteria & 93% of viruses from a surface using only water"
the above quote is from–https://www.infectioncontroltoday.com/view/understanding-microfibers-role-infection-prevention
but we wet our microfiber cloths with a cleaner disinfect mix.
Our vacuums have Hepa filters which lessens the impact on your indoor air quality.
2 Current Newberg Customer Comments
" And I just wanted to let you know we have been really impressed with the cleaning service provided and wanted to say thank you" Katie
" Brad, you do high quality services" a retail customer
1Call for a FREE Quote 503 537 8571
2Text FREE No Nag Office Cleaning 503 537 8571
3Email for a No Spam You Quote brad@bdjanitorial