Looking For Office Cleaning For Sherwood OR.?

Are dissatisfied with your current office cleaning company? Perhaps the employee that is cleaning your office space is going on vacation or does not to do that task anymore. According to www.businessmanagement.com, a survey titled "What Are The Most Hated Office Tasks? Cleaning was listed as # 9 of the 10 listed office tasks.
We like office cleaning and we think we are pretty good at it as our customers have given us many good customer comments and have given us scores of 20 out of 20 for our office cleaning. These scores are based on 10 Office Cleaning Areas:
1. Trash & recycling removal.
2. Dust removal below 6 feet.
3. Furniture dust removal including chair bases.
4.Computers, business machine dust removal.
5. Phones – handset cleaned and keypad cleaned.
6. Door glass & entry glass.
7. Counters & reception area.
8. Carpet or tile.
9. Doors & cabinets.
10. desktops.
Along with the office cleaning task list, using the right tools and cleaning agents. Let me show you 1 tool we feel has made a Big Difference in the way we clean a desktop.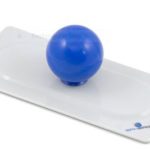 This tool is a Sphergo which provides a flat surfaced bottom to which a Microfiber pad is attached. The pad is sprayed with a Greens Seal Approved, Eco and People friendly cleaning agent. The pad then cleans the cleared desktop of fingerprints, coffee spills, germs. Because the Spergo is flat and the desktop is flat, the surface gets a more even clean better than doing the same job using your hand and a microfiber cloth. The cleaning pads are changed out frequently as not resoil a desktop surface.
We use a separate clean microfiber cloth to remove the dust that has accumulated behind the computer, phones and photos that usually sit at the back of the desktop.
Desktop dust removal is important and it can be surprising as to the amount of dust that accumulates behind the desktop items such as computers, monitors and phones.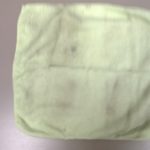 This image show the amount of dust that was removed from several workstations at an engineering company which has it's workstations cleaned 1X per week.
The cloth used to capture the dust was a Microfiber Cloth which has the ability to attract dust because of the +positive nature of the cloth which attracts the -negative nature of the dust particles. Opposites attract.
Office Cleaning Comment from a Current Customer "Looks Pretty Good, Brad"
Customized Office Cleaning Task List for Sherwood Oregon.
We understand that each customer looking to hire an office cleaning company has their own task list and the service days for the office cleaning that meets
their needs. Some of our customers prefer a Full Service office cleaning done usually 1X per week or with some Basic office cleaning services done between the Full Service days, these Basic Services would include restroom cleaning and the trash & recycling removed and maybe the kitchen or breakroom cleaned.
other customers usually the smaller office spaces request a Full Office Cleaning Service done 2X per month.
Sherwood OR. Office Cleaning Checklist for Restrooms & Breakrooms
Are you satisfied with the cleanliness of your restrooms? Does your current office cleaning service provider change out burned out light bulbs? Do they tighten or fix loose toilet seats? Do they clean or remove the water spots under the towel dispenser?
we do the above and more. We have installed new toilet paper holders, fixed broken toilets that just needed a new chain or just tightened up the old chain so the toilet didn't run all the time.
Our customers have given us a perfect score of 20 points based on a 10 restroom item checklist with each item on the checklist worth 2 points, once in awhile we do get a restroom score of 18 points but that is the lowest score we have ever received and we make sure to address the task or restroom area to get the score back to 20.
Here is a Checklist of the Restroom Tasks:
1. Disinfect and clean the fixtures including the bases. Check the seats and tighten the seat bolts if loose.
2. Empty the trash and replace the liner.
3. Refill dispensers.
4 Clean all mirrors.
5. Replace burned out bulbs.
6. Clean and disinfect touch areas on doors, dispensers, stall partition walls.
7. Look for and remove cobwebs in corners.
8. Clean wall under towel dispenser to remove soap and water marks.
9. Check ceiling vent fan cover and remove accumulated dust
10. Mop the floor to clean and disinfect.
We currently are using Concrobium which is a plant based disinfectant and cleaner. https://www.bdjanitorial.com/whyuseconcrobium  is a link to an infographic which explains more about the benefits of Concrobium.
Call or Text 503 537 8571  For A Free No Nag No Hassle Quote  For Your Sherwood  Office Cleaning. Yes We Do Email…brad@bdjanitorial.com