Office Cleaning for Tualatin Oregon.
If you are considering making a change from your current office cleaning service provider or to compare our office cleaning service to the office cleaning company you are currently using. let me offer some suggestions on how BD janitorial is different from other Tualatin office cleaning companies.
According to an office cleaning customer survey, the biggest area of complaint is The Restrooms (See Quote Below)
"Unsurprisingly, the biggest cleaning complaints customers receive stems from occupants who are unsatisfied with the state of restrooms. According to the survey, the most common grievances are empty soap and towel dispensers (26 percent), and dirty restrooms (25 percent)". See Article on Clean Link.
Here is a list that BD janitorial uses to service restrooms, to cut down on complaints and enhance customer satisfaction.
1. Clean and disinfectant restroom entry doors and stall doors.
2. Check dispensers and restock if needed + clean exterior to remove fingerprints.
3. Clean and disinfect fixtures & bases & tank tops & handles.
4. Clean wall under towel dispenser to remove water marks–if applicable.
5. Clean mirrors.
6. Check ceiling vents for dust and remove it if present.
7. Remove trash & replace liners.
8. Check for dust on wall art & partition tops.
9. Clean and disinfect flooring.
10. Check for cobwebs and remove them.
11. Replace burned out bulbs from vanity lights or ceiling lighting fixtures.
Current customers have given BD Janitorial a Restroom score of 100% to 'Looks Perfect" and "Looks Good"
Just 1 more thing, BD janitorial uses a Botanical based cleaning and disinfecting agent, see our Blog Post on "4 Reasons Why to Use Concrobium."
Office Cleaning Customer Quote "And I just wanted to let you know we have been really impressed with the cleaning service provided and wanted to say thank you!' Katie O 
Office Cleaning Services for Tualatin OR.
Studies have shown that the average desktop has about 20,961 germs per square inch and from a survey done from 1000 office staff at a U.K. based printer and consumer reseller of printer ink consumables, about 1/3 of the staff followed guidelines in cleaning their workspace and 1 out of 10 never cleaned their desks.
We are here to help. here are the steps we use to clean a desktop: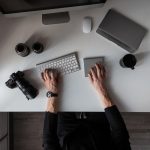 1. Remove surface dust from the desktop and Behind the computer, phone and photo frames using a Clean microfiber cloth.
2. A pad is wetted with a Neutral No Odor Cleaning Agent which will remove coffee rings, fingerprints, germs from the desktop surface–the cleared areas. The pad used is a microfiber pad and attached to a Sphergo pad holder which provides a flat surface to clean the flat surface of the desktop. We have found that using a hand holding a microfiber cloth tends to leaves gaps when cleaning a desktop as the hand does not provide a flat surface.
Another of our office cleaning services, we can clean and disinfect your telephone handset. Cleaning would consist of wiping the handset with a microfiber cloth and also cleaning the ear piece and mouth piece of the handset.

The buttons on the keypad can also be cleaned But only with your permission. We do not want to disrupt the working order of your phone system.
Studies of the office equipment have shown that an average telephone can contain 25,127 germs and can be a place that harbors cold and flu viruses.
Other Services Our Office Cleaning Company Offers.
Here are some of the other Tualatin office cleaning services that we provide for our customers.
Vacuum The Carpeting: We use Hepa or Microfiltered vacuum cleaners to remove dirt, hair from the carpeted areas. The vacuum cleaners we use have a sealed dust collection system that helps to improve the indoor office air quality.
Think of the office carpet as a giant air filter which collects some of the 100 hairs a person looses everyday plus the dead skin cells a person sheds each day along with the airborne dust particles that settle onto the carpet.
We believe that vacuuming with a vacuum that has a brush roller bar instead of just relying on a suction only vacuum such as a backpack vacuum. We have found that a vacuum cleaner with a brush roller bar picks up more hair and carpet dust than a suction only vacuum.
Office Space Ceiling Vent Cleaning: also collect a lot of dust and should be cleaned of the accumulated dust that collects around the vent covering.These vents are also in the restrooms and their vent cover should be checked often for dust accumulation.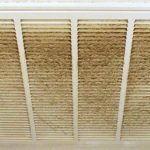 Here is an Example of a dirty ceiling vent. vacuuming the dust off the vent lessens amount of dust that falls down on the any surfaces below such as a desktop, filing cabinets etc.
Tualatin OR Office Cleaning Includes Lunch Room or Break Room. Here we clean the countertops, sinks, the microwave and yes, we can clean the inside and the glass tray. The floor and tables also get cleaned and the trash and recycle gets taken out and the receptacle gets cleaned also along with a new liner installed. Something got spilled on a cabinet door? we can clean that up along with any spills on the wall next to the waste receptacle.
If your current office cleaning company isn't providing the service you are $$ for, give BD janitorial a Call or Text 503 537 8571 or send us an email at
brad@bdjanitorial.com or use the contact option on this page.
Thank you for time. Brad Dorner BD Janitorial.
Our Office Cleaning Company Also Cleans Restrooms. We realize that restrooms generate almost 70% of the office cleaning complaints. So we follow a Restroom Cleaning Checklist which helps to generate a perfect score of 10 based on a Check List of 10 Restroom Tasks and reviewed by the customer.
The Restroom Cleaning Checklist includes:
* Trash removal
* Dustremoval
* Fixtures
* Sinks & counters
* Mirrors
* Walls & doors & partitions
* Dispensers
* Floors
* Baseboards & corners