Commercial Cleaning for Tualatin OR
Are you looking to change your current Tualatin commercial cleaning provider? Is the employee currently doing the commercial cleaning of your building or office space looking to end that job? Have you moved into a new Tualatin OR. office space and want to start having a consistent office cleaning done on a regular daily or weekly schedule?
These are a some of the questions our prospects and customers have asked us and we have the answers to the above questions and can answer your commercial cleaning questions also.
Perhaps your commercial cleaning question may relate to environmental issues or the cleaning chemicals a  commercial cleaning company uses or you may have special requests such as can you change out the light bulbs in a ceiling fixture.
So a little about BD Janitorial. We have been in the commercial cleaning business for over 25 years. We have several Tualatin OR. commercial cleaning customers and Brad the co-owner of BD janitorial has cleaning certifications in *cleaning basics
*green cleaning
*restroom cleaning
*life cycle of floor care
*8 other cleaning related certifications
75% of Commercial Cleaning Complaints Are Restroom Related
This comes from several surveys which have been featured in online publication such as Cleanlink.com,facilitiesnet.com and several other.
Bd Janitorial has a 15-20 steps a approach to restroom cleaning and disinfection. This would be a good place to mention the BD Janitorial offer "No Chemical Cleaning and Disinfection for restrooms. We use Steam Cleaning for this service and we find it works well for some restroom layouts and fixtures.
A Sample List of Our Restroom Cleaning Services:
1. Clean & disinfect the fixtures with a Plant Based Cleaner & Disinfectant.
2. Fill the dispensers and clean the exteriors.
3. Disinfect the touch points such as door handles, fixture handles.
4. Remove cobwebs and remove dust from the ceiling vents.
5. Mop the floors with a Plant Based disinfectant cleaner.
6. Install new light bulbs in vanity light bars or ceiling light fixture.
7. We can order or restock restroom supplies per customer request.
8. Clean sinks & mirrors.
These are just a few of the steps we do to clean and disinfect each restroom to exceed our customer's expectation. If we do get a restroom complaint, we try to  step up and correct the complaint to the customer's satisfaction.
Customer Comment from Chinook Trading  "Great Service"
Tualatin Commercial Cleaning With a Difference.
We understand there are other Tualatin commercial cleaning companies that offer similar services. Yes, they all clean and disinfect restrooms but are those companies using the same mop bucket for each customer?
Are they using a Feather duster to remove surface dust?
Do they save $$ by using household products such a Bleach or Lysol?
BD Janitorial has 'kicked the mop bucket" we mop and clean each restroom floor with a clean microfiber mop pad. We do not use Bleach for disinfection or cleaning but we use a Botanical Disinfectant https://www.bdjanitorial.com/whyuseconcrobium/
We Do Not Use feather dusters for dust removal because we have found that Microfiber cloths do a much better job at attracting dust and removing it. Washing out Feather Dusters must be done by hand vs microfiber which is machine washed and dried in a dryer.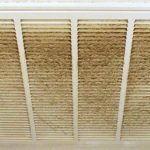 Another service we offer is Ceiling Vent Cleaning. The Ceiling Vents that your heating and cooling systems uses to blow the heat or cool air into a room or office area. Over time these vents collect dust and over time the dust build up can be considerable.
This photo is a Ceiling Vent that over time has collected quite a bit of dust. The dust removal is a low cost investment in helping to provide cleaner indoor office air quality.
Tile & Grout & Commercial Floor Cleaning for Tualatin OR.
Some of our customers have tile and grout restroom floors or tile and grout in their commercial kitchens. having tried out several tile and grout floor commercial floor cleaning products, we have found that the Enzymatic type of products do an excellent job to remove food grade grease and soil.
The dissolving products, which dissolve the food grade grease or soils but that dissolved liquid needs to be wet vacuumed up or pushed to a floor drain and then some of the liquid tends to stay in the grout lines.
Enzymatic type floor cleaners  do not need to be wet vacuumed up nor do they need to be pushed to a floor drain. Enzymatic products "eat or break down" the food grade grease or soils which then are turned into carbon dioxide and water which evaporates.
For tile and grout floors that need a deep cleaning, a brush scrub or machine scrub using an Enzymatic product most of the time will clean the floor and get the floor back to a base clean.
*Customer Comment on their commercial kitchen floor cleaning " Brad, the kitchen  floors have never looked so good ' George Fox College* 
For a Vinyl type of flooring, a scrub with a white pad ( this pad offer the least abrasion ) using a Green Seal Approved floor cleaner and then wet vacuum the scrubbed liquid or squeegee it up. This method can " deep clean ' the floor and help get it back to looking better.
A Commercial Cleaning Company That Pays You.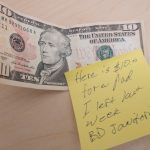 Another complaint I hear from New Customers, when asked why they are changing commercial cleaning service providers the answer I sometimes get is
 " the current commercial cleaning company frequently leaves some of their equipment behind " The left behind item is usually a cleaning cloth or a dusting wand or a spray bottle.
We strive to take ALL Our Equipment with us when we leave but sometimes an item may get left behind. in that case when we pick up that item usually the next day we will leave you a Cash Gift, for a Coffee or a Box of Doughnuts or maybe Lunch? 
Our Tualatin Commercial Cleaning Company Guarantee to You.
If you have a complaint regarding a service that we offer or an office space item isn't as Clean such as desktop has finger prints or a coffee ring or the carpet doesn't looked vacuumed or some part of the  building area isn't Cleaned to Your Satisfaction, we will Reclean that area or office space item at no charge to you. The Reclean will be done on the next service day or within 48 hours, your choice.
Thank you for visiting our site and taking a few minutes to consider our services. BD Janitorial and Brad the Co-owner would be happy to discuss your commercial cleaning needs for your Tualatin office space or commercial building. 
Quotes for services are always free and we promise NO Nagging! Call or Text 503 537 8571 or use the Contact Us Links